Blazon (French blason - coat of arms) is a description of a coat of arms made in accordance with the principles of heraldry. The language of blazon was created by heralds, for the purposes of a concise and clear presentation of knightly coats of arms.
Therefore, in keeping with tradition, the correct description of the coat of arms should be short and unambiguous: understandable enough that, using the description, the coat of arms could be drawn flawlessly.
According to such a specific code, I prepared two signet rings- for my client and his brother. Along with the photographic documentation, I also received the document "Extract of the deliberation decree from the books of deputies of the Minsk Province" for analysis. It helped me to come to an accurate understanding of the individual elements, which I would like to introduce now, according to the rules of blazon.
The shield of the coat of arms has a quadruple division. The field in the upper left corner contains the five-petalled Poraj rose - a Polish coat of arms of Czech origin. On its right is Szantyr - a variation of the Pobóg coat of arms. It is made up of a blunt horseshoe (in reference to household equipment) with a bachelor's cross in the middle.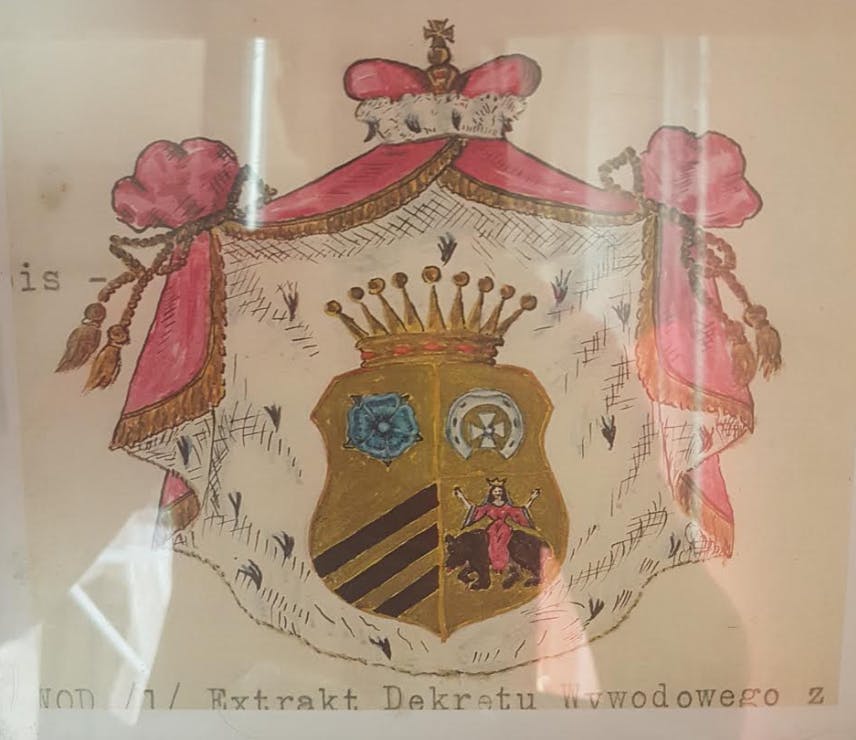 In the lower right corner of the shield, there is a lady sitting on a walking bear - Rawa (Ursyn). It is a coat of arms, probably of Polish origin, derived from the families using the coat of arms of Rawicz. The last symbol is a heraldic honourable figure, located in the lower left corner. It is geometric, created with straight diagonal lines.
The coat of arms probably dates from the 18th century. How did we come to this conclusion? In addition to the data from the document, an important element that allows to establish the dating is the symbol of the crown with pearls, which appears in the royal and princely coats of arms above the shield in this period only. With the development of heraldry, different crowns correspond to different noble titles. In this case it is a Count's crown with nine sticks and pearls.
After the customer accepted the design, the coat of arms was hand-engraved in gold and chained on a black onyx plate. Then the onyx was set in a simple, large ring made in 14k yellow gold.